All Entries Tagged With: "Austin real estate"
Sterling Custom Homes is pleased to add one more award to their already long list of accomplishments. On March 4th, the Austin Business Journal honored elite Austin Real Estate professionals with an award ceremony depicting the best of the best. As it happens, Sterling Custom Homes received recognition as the 2010 Austin Custom Home Builder of the Year.
Duke McDowell accepted the award on behalf of the
Austin custom home builder and graciously thanked the amazing team he has at Sterling, as the company would never have been able to see such success without the hard work and dedication provided by these employees. In addition, he thanked the ongoing support the real estate community has given Sterling over the past 20 years.
The event was a must-attend occasion for anyone involved in the Austin real estate industry. Top producing agents and teams were present to receive recognition for their accomplishments over the past year, and many of them shared their stories of how they were able to thrive in a down economy. Other local builders and companies were also present to show their support for these elite professionals.
Sterling builds
luxury custom homes in the Austin area with a commitment to quality and customer satisfaction. There are many aspects of the way Sterling conducts business that sets them apart from the rest, like the
Sterling CookBook or the
Lot Analysis. These practices ensure that the client is kept up-to-date with every aspect of the home building process, from the very first step to the final walk through. To be named the Austin Business Journal's 2010 Custom Home Builder of the Year means the local industry notices and appreciates all of the extra things Sterling does right here in the Austin area, and it is a tremendous honor.
Congratulations Sterling, this is a well-deserved honor!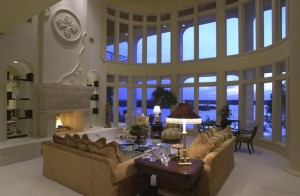 Winter has almost officially begun, but the winter weather has been affecting cities across the nation for weeks now, even Austin, Texas. When even the Lone Star State has snowy weather, you know it's going to be a cold winter. This is why it should be extremely important that your luxury custom home has many indoor living areas, preferably with fireplaces, where you like to spend your time. These rooms become especially important during the holiday season when you may be hosting family, friends and parties.
When it comes to creating a cozy, inviting living room, Sterling Custom Homes should be top of mind for the
Austin real estate market. Their keen attention to detail and devotion to the highest quality material and products ensures their clients are elated with their finished products.