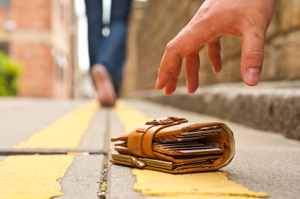 Did you know that simply keeping track of your wallet or purse is actually an identity theft solution? A recent study from Travelers on 2011 ID theft claims has recently revealed that everyday stolen and misplaced wallets and purses are the number one reason identity fraud crimes occur, much more often than online identity theft.
This surprising information comes from a recent article from the Equifax Finance Blog entitled, "Top Causes of Identity Theft? Not the Internet—Yet." In the article an identity fraud product manager at Travelers, Joe Reynolds, relays this interesting identity theft information to readers.
Reynolds also explains that cyber-breaches, which include scams on the internet, only come in at the fourth spot on the list! This is a surprising revelation, considering home many people use the internet for all of their banking, shopping and bill paying needs nowadays.
It appears that old-fashioned wallet snatchings, burglaries, forgeries and of course, mindlessness misplacements, are still the biggest threats to our
ID protection. So lock up your things and be mindful of threats, and also check out the Equifax Finance Blog for even more identity theft protection information from the finance experts.