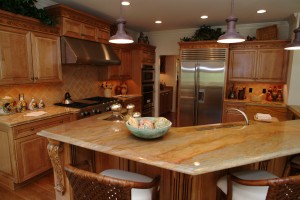 Attention buyers: Boone Homes has begun construction on its newest model, the Bridgemont, at its Tarrington on the James community in Midlothian. For home buyers looking for the best energy efficiency, this new model from the
Richmond custom home builder will be Energy Star Certified. Priced from $599,000, the 4,226-square foot Bridgemont model will feature five bedrooms and four-and-a-half baths. By listening to customers, Boone Homes has incorporated several enhancements into the plan. Rooms have been sized to utilize square footage where it is most used and needed. There is also a deluxe drop zone to help homeowners avoid unnecessary clutter.
In addition to the design enhancements, Boone Homes is offering a bevy of energy enhancements as well. The home has LED lighting that uses half the energy of standard lighting and bulbs with an estimated lifespan of 50 years. The home also features low-emission windows for heat regulation. These enhancements help homeowners save money and avoid expensive utility bills. A dual-fuel, high-efficiency heating and cooling system provides year-round comfort. The Bridgemont model also comes with LP® Techshield® radiant barrier roof sheathing for enhanced climate control. Dow® STYROFOAM SIS™ panels eliminate thermal bridging to get rid of drafts and cold zones, providing a more comfy home.
The Bridgemont model is a prime example of luxury and technology. Inside the home, residents will enjoy a designer kitchen with a large pantry and gourmet island, a windowed breakfast room, an expansive master suite with "his" and "hers" walk-in closets and a second-floor laundry room. There are also several amenities available at The Tarrington on the James including a pool, community clubhouse fitness center and community park.
For more information, visit the
Boone Homes website or call 804-218-7786.