Kolter Homes – a leader in developing next-generation, highly-amenitized, master-planned active adult communities in the Southeastern U.S. – is pleased to welcome its first homeowners to Cresswind Georgia at Twin Lakes. With roughly 100 homes sold in the first two months of sales, active adult home shoppers are responding to the community's prime location, serene nature views and beautifully crafted home designs, perfect for active adult homebuyers.
Recently retired Brad and Marti Miller moved from Kansas to Georgia to be close to their kids and grandchildren. After an extensive search among active adult communities in the area, the Millers decided Cresswind Georgia at Twin Lakes was the perfect place for them.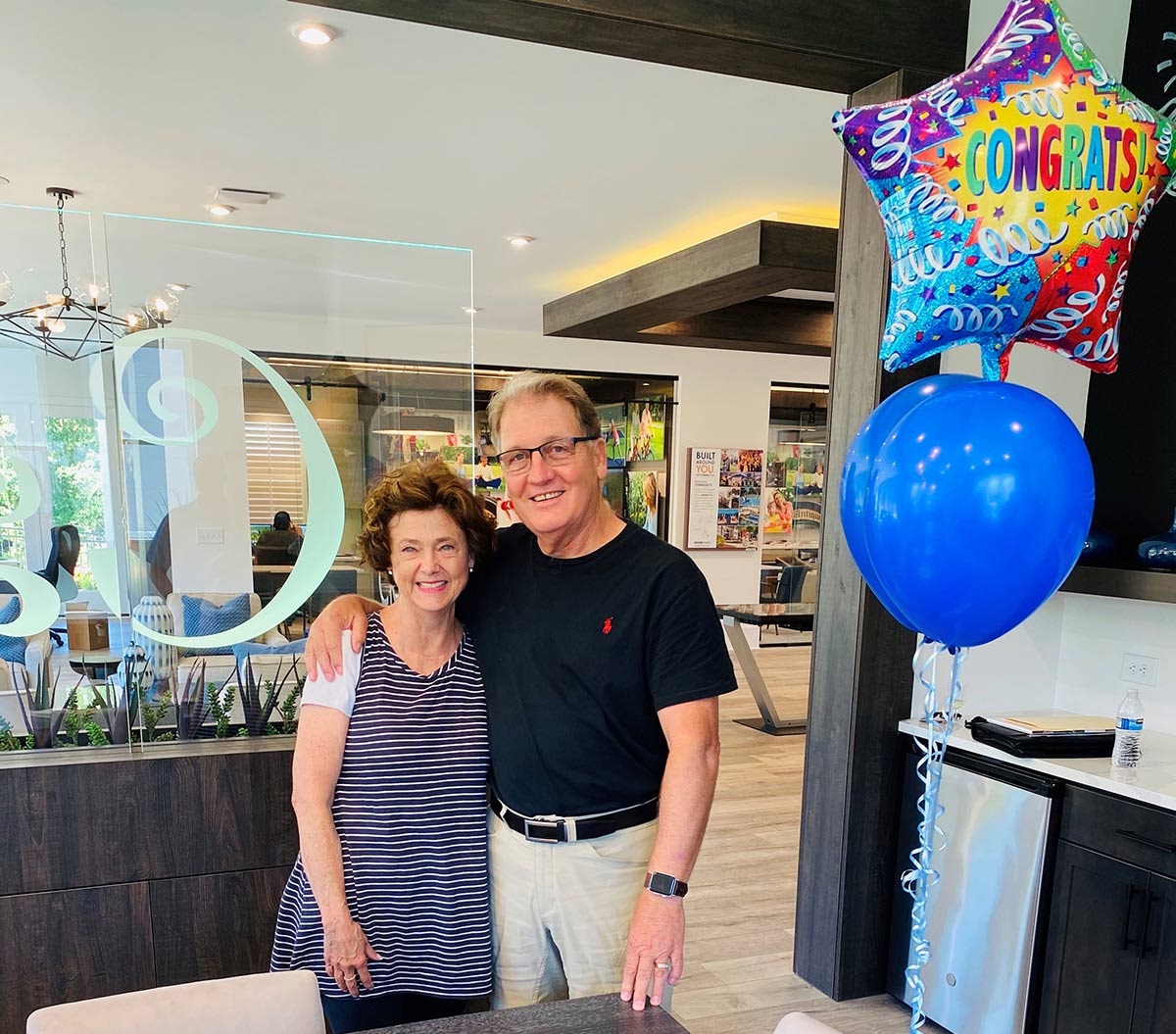 "When we came to Georgia, we really had no idea where we were going to live," Marti said. "Our Realtor introduced us to this area and we just fell in love with it.
"We met the people, the sales representatives, and they were just phenomenal. Everybody here that we have met has just been wonderful and made us feel very, very comfortable. It made it easy for us to move in."
Cresswind Georgia residents will enjoy a wide variety of community amenities centered on the Cresswind pillars of fitness, nutrition and relationships. Planned indoor amenities include an indoor pool, fitness center, yoga studio, art and crafts studio with kiln, billiards and various social clubs. Planned outdoor amenities include a resort-style pool, walking trails, access to the property's two lakes, tennis and bocce courts, an event lawn with amphitheater and an expansive pickleball center, one of the community's biggest draws, to feature 30+ courts, estimated to be the largest private pickleball complex in the state.
"I'm looking forward to playing pickleball," Brad said. "I'm pretty competitive and we want to meet our neighbors and really have social time."
"We want to know our neighbors, and this place is going to allow that for sure," Marti said. "We've been in the big city, we know what it's like, so now it's time to relax and enjoy."
Set within quiet Hoschton, the gated community's location is perfect for the adventurous active adult. Residents enjoy convenience to plenty of shopping, dining and entertainment in nearby Braselton and downtown Hoschton. Additionally, Cresswind Georgia is less than an hour away from the Blue Ridge Mountains, downtown Atlanta, Lake Lanier and Athens.
"We're ready to explore," Marti said. "We've got friends from out of state that are going to come to visit us, so we're excited to get out. Georgia is a beautiful state."
Priced from the mid-$200,000s to $400,000s, homes at Cresswind Georgia are adaptable to fit a variety of active adult lifestyles. Floor plans range from approximately 1,400 to over 2,800 square feet of living space with two-to-five bedrooms, two-to-three baths and two- to three-car garages. Optional features include patios, sunrooms, dens, golf cart garages, second-floor bonus rooms and basements, per plan.
"I said when we left Kansas what I want is a two-bedroom house with two bathrooms and an office or some kind of smaller room, and that's what the Dogwood offers," Marti said. "There is an office/study room, and we had French doors put on it for privacy and noise level when our grandchildren come, so they can shut that and watch TV.
"It also has a bonus room upstairs and, it's funny, it wasn't in my plan, but I'm glad it's there because I have more stuff than I thought. We hope someday to finish that off. It's the perfect floor plan for us."
"We love our home; we love this house," Brad said. "They [Kolter] put so much into it, and we can't say enough about that. They just want to make it perfect, and they take care of you."
With the health and safety of employees and homebuyers in mind, the Kolter Homes staff is practicing social distancing and encourages guests to do the same. Staff are participating in daily temperature checks are equipped with face masks. Hand sanitizer stations and/or disinfectant wipes are also readily available at all office entries and throughout the decorated model homes.
To learn more about Cresswind Georgia at Twin Lakes or to make a private appointment, visit www.CresswindGeorgia.com.