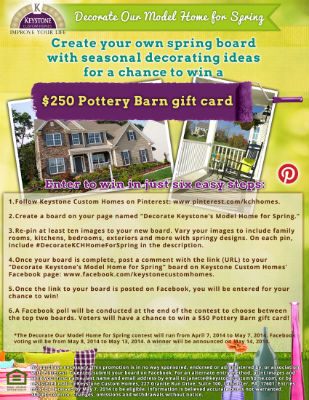 How will Pinterest inspire your home this spring? Maybe you'll add a new piece of furniture to the family room or make a wreath full of colorful flowers to hang on the front door. However you choose to be (p)inspired this year, make the most of everything Pinterest has to offer.
Keystone Custom Homes is holding a contest on Pinterest, called "Decorate Keystone's Model Home for Spring," which runs from now until Wednesday, May 7, 2014. By following a few steps and pinning some great images, you could win a $250 Pottery Barn gift card.
By following these steps, you'll be eligible to win:
1.    Follow Keystone Custom Homes on Pinterest:
www.pinterest.com/kchhomes/.
2.    Create a board named "Decorate Keystone's Model Home for Spring."
3.    Re-pin at least 10 images to the board. Vary images to include family rooms, kitchens, bedrooms, exteriors and more. Include the hashtag #DecorateKCHHomeForSpring in the description of each image you re-pin on your contest board.
4.    Once the board is complete, post a comment with its link (URL) to Keystone Custom Homes' Facebook page:
www.facebook.com/keystonecustomhomes.
After May 7, the top two boards will be put into a poll on Facebook for voters to choose their favorite. The pinner's whose board gets the most votes will win the $250 Pottery Barn gift card. The Facebook poll will be open from Thursday, May 8 to Tuesday, May 13, 2014. Voters also have the chance to win too! A $50 Pottery Barn gift card will be given to one lucky voter, chosen at random.
So, what are you waiting for? Make your "Decorate Keystone's Model Home for Spring" contest board today, and discover some great spring home design trends.