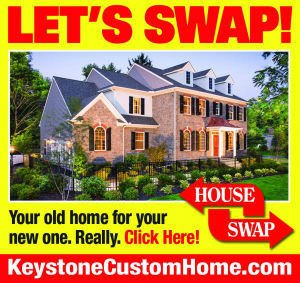 Keystone Custom Homes offers a House Swap program where buyers can swap their old home for a new one. The program is easy and fast. Once approved by Keystone's lender, buyers are enrolled in the program, and construction on their new home begins. Additionally, Keystone will refer the listing of the buyer's current home to an approved real estate professional, and a consultant will assist the buyer's agent with the marketing of the home. Once the home has been sold, Keystone will give a settlement date, and the buyer will move in to their brand new home when scheduled.
If a buyer is looking to move into a home right away, Keystone Custom Homes offers 45 quick move-in homes in eight different communities that are ready for purchase.
The Hamilton Vintage is one quick move-in ready home located in Leola, PA in the Anglesea community. This home features four bedrooms and two-and-a-half baths. The first floor features a kitchen, dining room, foyer and study area. The floors are all hardwood, while the family from is plush carpet. The second floor consists of one bedroom with a walk-in closet and two more additional bedrooms. The master bedroom features a private bath and a walk-in closet. With a price at $299,512, this home is ready now.
Keystone also offers their Parker Heritage home in Annville, PA in their London Croft community as a quick move-in home. This home features four bedrooms and two-and-a-half baths. This home is a single-family home priced from $230,000.
Keystone specializes in single-family homes and townhomes. They are Pennsylvania's largest locally owned home builder and have been building quality homes for over 20 years.
For more information about the House Swap program or how to register, contact Online Home Advisor Barb DiBrito at 877-513-0385 or visit www.keystonecustomehomes.com.