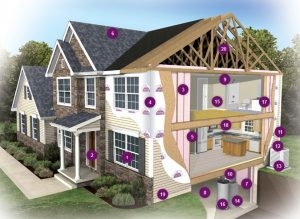 Keystone Custom Homes offers energy-efficient homes using a variety of eco-friendly homebuilding practices. These Energy/Plus homes use high quality materials to help home buyers save money, protect the environment and preserve valuable resources.
Customers often wonder, "How does Keystone achieve this win-win homebuilding scenario?" Energy/Plus homes are outfitted with numerous features to add levels of comfort and protection. An array of tactics provide Keystone with this competitive advantage including Low Emittance (Low-E) window coating; concrete flooring made with a vapor barrier and drainage system; well-sealed ductwork joints and connectors; and "super-sealed" wood-to-wood joints.
Low-E window coating serves numerous energy-efficiency purposes for home buyers. The coating allows natural light to pass through while simultaneously reflecting heat. In addition, Low-E windows reduce energy consumption and block harmful UV light to reduce its damage to the skin, fabrics, flooring and other in-home objects. Long-term exposure to UV rays can cause things as minor as sunburn or as major as skin cancer.
Concrete flooring with built in vapor barriers and drainage systems prevent moisture from gathering in basements and crawl spaces. This will maintain a cozier atmosphere and reduce the chance for mold growth. Overall, the home will be a healthier and happier environment. Mold spores can become airborne and once inhaled can cause diseases such as fungal pneumonia.
Ductwork connectors and "super-sealed" wood joints minimize air leakage and reduce excessive drafts from entering the home. By trapping heat in the home and reducing leakage and outside air flow, the sealants will reduce energy expenses and save costs.
All of Keystone's energy-efficient offerings are in an effort to provide longevity from a customers' home and pocketbook, as well as the environment. For a full description of all the offerings Energy/Plus homes provide or for more information about home, visit www.keystonecustomhome.com.