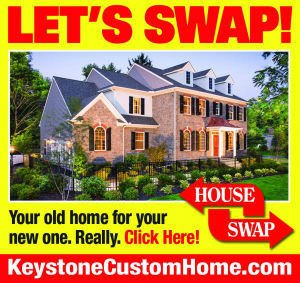 New home buyers can swap their existing homes for a new one with Keystone Custom Homes' House Swap program, through a process known as "Certain Sale," which helps customers sell their existing home quickly with the promise of not having to make two mortgage payments or move into temporary housing.
Buyers must first be approved by Keystone's lender to be enrolled in the program. While their new home is under construction, Keystone will refer the listing of the customer's current house to an approved real estate professional or if the buyer already has an agent, one of the builder's consultants will assist that agent with the marketing of the home.
Keystone's experienced staff will ensure the highest market value for the home. Once the customer's old house has been sold, Keystone will provide a settlement date, allowing for the customer to move into their brand new home right on schedule.
With 44 single family and townhome communities throughout Pennsylvania's Adams, Berks, Chester, Cumberland, Dauphin, Lancaster, Lebanon and York counties as well as Maryland's Cecil and Harford counties, Keystone has the perfect new home for any family.
Keystone's floor plans have options for first floor owner's suites, gourmet kitchens with breakfast areas, spacious family rooms with fireplaces, luxurious baths and much more.
Learn more about Keystone Custom Homes' House Swap program by contacting Online Home Advisor, Barb DiBrito at 877-513-0385 or visit www.keystonecustomhome.com.