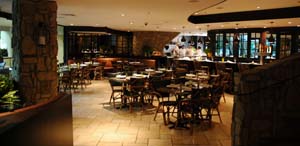 A "trattoria," a relaxed, Italian-style restaurant is bringing gourmet pizza and Italian fare at casual pricing to Coconut Grove's Mayfair Hotel & Spa. The new restaurant, Spartico, is serving up a mouthwatering menu of memorable items made of the highest quality products, artisanal flours and refined recipes, to create a final product with great flavors and reasonable prices. Diners enjoy the classic Italian-style fare in an epicurean setting designed by award-winning Palm Beach based interior design firm, Leslie Schlesinger Interiors.
Leslie Schlesinger Interiors created Spartico's unpretenious modern Italian design, adding a South Floridian twist to a cuisine inspired by classic Italian and Roman-style dishes. Diners are surrounded by the sounds of a crackling fire and scents of inspired Roman cuisine being prepared to order at Spartico. The mainstay of Spartico's menu, their Roman-style pizzas, are cooked in an Ambrogi wood-burning oven from Milan, which also faces out street-side for passers-by to get a quick 12 inch pie, or just get a whiff of the aromatic crust bubbling in the oven. These pies are made daily by hand, using a blend of various flours and dough produced by seasonally harvested wheat and toppings include a list of original selections, including chorizo, tomino cheese, speck, ripe figs and honey, and proscuitto di parma.
The restaurant offers an intimate wine room, ideal for social occasions, corporate functions or rehearsal dinners, fashioned from antique wine crates and casks, creating a truly unique, old-world, romantic atmosphere for your guests. The restaurant's bar makes for the perfect place to unwind in a tranquil, candlelit Art Deco environment.
Spartico's intriguing menu is commanded by dozens of Roman-style pizzas but also includes sandwiches, salads, appetizers, cocktails and decadent desserts, along with substantial children's offerings. Spartico also offers craft beer and wine tastings on Thursdays and Fridays evenings, where tasters will sample extravagant brews and exclusive vineyards while learning unique insights from our beer and wine experts.
The newly renovated Mayfair Hotel & Spa offers luxury accommodations, first-class service and amenities in the stylish, upbeat and urban center of South Florida, the Coconut Grove area of Miami. Visit
www.mayfairhotelandspa.com to learn more about Spartico at the Mayfair Hotel & Spa.