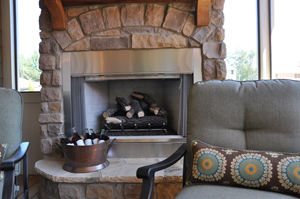 A key part of any luxury home is the outdoor space. That's why Ashton Woods Homes is showcasing amazing spaces in four of its Atlanta new homes communities.
Home buyers can see the possibilities of outdoor entertaining at four of its model homes, located in Woodbridge Crossing in Smyrna, Wookstock Knoll in Woodstock, The Oaks at Charlotte Drive in Alpharetta and Copper Creek in south Forsyth County.
Homes feature brick or stone fireplaces, brightly colored patio furniture, sturdy Adirondack chairs and a myriad of details. Lanterns, windchimes and collections of butterfly nets add charm and character.
"Personalization is important to home buyers, and that is why we want to showcase Ashton Wood's ability to create a stunning backyard," said Tara Brown, marketing manager for Ashton Woods Homes. "Having a serene and relaxing outdoor space is the cherry on top of a new home purchase."
Every new home built by Ashton Woods is rated energy-efficient through the PowerHouse Green with Environments for Living Program and is ENERGY STAR qualified. Utilizing low-e windows, low-flush toilets and other low-energy features, home buyers can save up to 45 percent on their utility bills.
For more information on Ashton Woods Homes communities, visit the website.