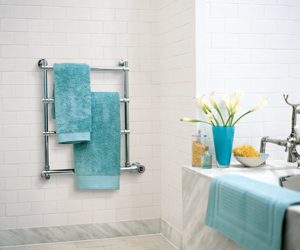 The feeling of a cozy towel on your skin, especially after a long day, is one of life's simple pleasures. And since
Mr. Steam knows a thing or two about simple pleasures, it's only natural that the company would provide bathroom towel warmers.
In fact, Mr. Steam offers a full collection of
towel warmers to please almost everyone .
The Series 200 lineup is simple and affordable, with prices to fit even the tightest budget. These towel warmers come in finishes like oil-rubbed bronze, polished chrome and white. As an added bonus, each unit features a built-in oil Aromatherapy™oil well, which makes it easy to add your choice of pure essential oils – a sure way to make your shower time more pleasing…
The new Series 300 lineup is made from high-quality stainless steel and is available in brushed or polished finishes. One of the best things about this series is the freestanding floor model, which gives you more control over the placement of your towel warmer. And, just like the Series 200 models, these products include an Aromatherapy oil well for satisfying multiple senses.
The 500-600 Series is made from the highest quality solid brass for efficient heating and lifetime reliability. The designer finishes found in this lineup can add to the décor of any bathroom.
You'll also love the versatility of these towel warmers. Not only do they provide you with warm and toasty towels, but they can also provide you with warm blankets and quilts. If you're tired of seeing wet towels on the bathroom floor, why not dry them with the towel warmer?
This simple luxury has minimal operating costs (just pennies per day) and a great return on investment. If you've yet to discover the joy of a freshly warmed towel, what's stopping you?
To learn more about towel warmers, visit the
Mr. Steam website.