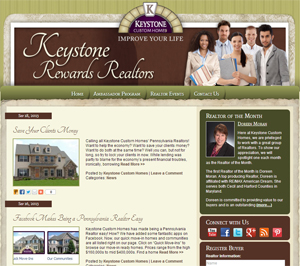 For most home builders, their marketing strategy mostly consists of appealing to buyers first and Realtors or outside agents second. However, one Pennsylvania and Maryland home builder,
Keystone Custom Homes, recently launched a new blog that focuses entirely on Realtors.
The Keystone Rewards Realtors blog was developed in order to keep co-op Realtors in the loop and reward them for all of their hard work. Visitors to the blog will find information on the builder's latest incentives, gain access to special bonuses such as their Ambassador Program, receive special invites to fun events and have exclusive opportunities to enter contests. The blog will also be the go-to source for information on Keystone Custom Homes' communities and the local real estate market.
In addition to the blog, visitors to the site will be able to register their buyers, connect with the builder on all of their social media profile and find more information on the Ambassador Program.
Realtors serving the areas surrounding the builder's 44 communities in Pennsylvania and Maryland are encouraged to subscribe to the blog to get the latest news straight to their inbox. Realtors can also easily access the blog straight from Keystone Custom Homes' custom Facebook tab.
"At Keystone Custom Homes, it is our job to make sure our buyers enjoy purchasing new homes from us," explained Hawkins. "We support Realtors throughout the process. Because over 90 percent say they'd refer us to a friend, Realtors can feel good about introducing their clients to us."
If you're a Realtor, be sure to check out and subscribe to the blog at www.KCHRealtors.com.