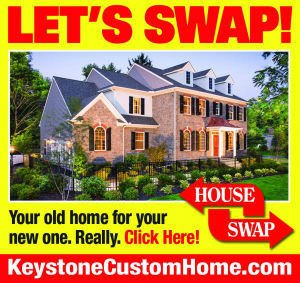 What better way to begin 2016 than with a brand new home? Keystone Custom Homes invites interested home buyers to its House Swap program. Sell quickly for a good price and move once.
The House Swap program is easy, fast and, best of all, it works! Get approve by a Keystone Custom Homes lender, and then buyers can enroll in the House Swap program. The moment a customer is approved, construction begins on their new Keystone Custom Home.
What happens to the old home? It gets sold for you! A distinguished real estate agent takes over the home and assists with the listing process. The agent or consultant helps with marketing the home from start to finish, and in addition, Keystone's staff helps the professional manage the sale to expedite the process. Once the home sells, owners move into their new home without missing a step. It's that easy!
Keystone Custom Homes builds throughout central and southern Pennsylvania in 44 communities. Located in Adams, Lancaster, York, Berks, Cumberland, Dauphin, Montgomery, Chester and Lebanon counties, Keystone offers numerous opportunities for a new home.
One of these communities is Glenwood Estates. Keystone Custom Homes' newest community in Berks county, Glenwood Estate features 15 home sites available now. The community is located minutes from Rte. 422 in Douglassville, Pennsylvania, and it is 30 minutes from King of Prussia and minutes from French Creek state park.
Another great Keystone community is Sadsbury Park, which features new townhomes and single family homes. This beautiful community includes jogging trails, a pool and cabana and tot lot. Located in heart of Chester County, Sadsbury Park is close to Rte 30 and a short commute to Lancaster or West Chester. Adding to the cozy environment, this community features quiet tree-lined streets making it the perfect place to call home.
For more information about Keystone Custom Homes' House Swap program, contact Online Home Advisor Barb DiBrito at 877-513-0385 or visit www.keystonecustomhome.com.