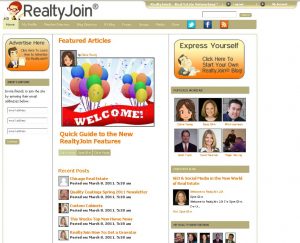 Do you want an easy way to expand you business, make connections with others in the
luxury real estate industry, and advertise potential opportunities? The solution is as close as the click of a mouse.
RealtyJoin has just launched its redesigned version 2.0.
A free interactive social and business networking site for real estate professionals in the U.S. and Canada, the new RealtyJoin does everything that the original version did, only better. The RealtyJoin website is a social marketplace where individuals in the real estate industry can network, share ideas and solve problems.
RealtyJoin 2.0 has many upgrades including improved navigation, enhanced profiles, video options, the ability to add photos and post status updates. Also, users of the new site have access to their own WordPress blog for improved interaction.
By creating a profile on RealtyJoin, you'll have access to many high profile real estate groups and associations already participating including the Atlanta Board or Realtors®, Foreclosure.com, Southeast Valley Regional Association of Realtors® and RIS Media.
Although all members must now join under the free introductory level, RealtyJoin will launch premium and executive memberships over the next several months for those who would like further upgrades and enhancements.
Whether you're a real estate agent, real estate investor, plumber, electrician, stager, home builder or anyone in between, you'll love this new Internet-based tool.
For more information about
RealtyJoin 2.0 visit the website, "like" 
RealtyJoin on Facebook or follow
RealtyJoin on Twitter.