Todd Murphy, internationally acclaimed artist and curator for Buckhead's 50-story mixed use tower Sovereign, recently unveiled 20 new pieces of art.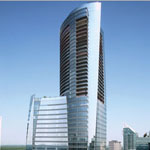 Todd produced this collection of pieces, 20 separate five by ten foot light boxes, for the residential art collection that is displayed throughout the luxury highrise Sovereign.
These original works span the elevator lobbies of floors 28 through 47, each depicting a metamorphosing segment of a continuous tree and varied specimens of birds. This installation pays tribute to Atlanta's deep roots and cultural evolution.
Todd hopes that each new installation will amaze residents and visitors to this already unique building. In 2008, Todd procured and implemented Sovereign's principle art collection seeking various works from renowned artists including Deborah Butterfield and REM lead singer Michael Stipe.
On the amenity levels, floors 28 and 29, a gallery showcase of retrospective

fine art photography is on display with works from famed photographers Willy Ronis and Elliot Erwitt and contemporary pieces by locals such as Sally Mann, Massimo Vitali and Joel Meyerwitz.
Todd's work has been exhibited in museums and galleries across the United States, Europe and Asia. He has been a visiting artist and lecturer at the University of Georgia, University of California San Francisco, University of Virginia, University of South Carolina and the High Museum of Art inAtlanta. His work includes paintings, sculptures, site-specific work and experiential design. He has been a consultant to Fortune 500 companies, private corporations and non-profits. He is a member of the Board of Directors of the Mythic Imagination Institute.
For more information about this upscale Atlanta condo community, please call 404-266-3344 or visit
Sovereign.