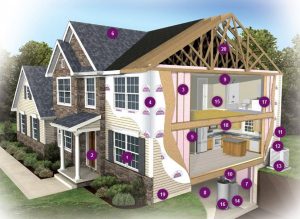 If your goal in 2016 is to save money and live more efficiently, then a new energy-efficient home from Keystone Custom Homes is perfect. Keystone builds homes backed by a heating cost guarantee with Energy Plus standards.
These Keystone homes have a $490 heating cost guarantee, which means that the cost of heating will not exceed $490 per year. Keystone guarantees this for the first two years of homeownership. This is a savings of up to $1500. When it comes to heating a used home, buyers can expect utility bills to far exceed this cost.
To achieve this guarantee, Keystone uses advanced money saving technology in its homebuilding. These technologies include Low Emittance (Low-E) coated windows, insulated doors, High R-Value insulation, house wrap, vented attics, energy-efficient cooling systems, HVACs designed specifically for homes and much more!
Making energy-efficient homes is Keystone's way of helping customers save money while preserving the environment and protecting future generations from eco-related harm.
One community with high-quality, energy-efficient Keystone Custom Homes is Buckingham Preserve located in Douglassville, Pennsylvania. Only minutes from Rte. 422 in Douglassville, residents of Buckingham Preserve are just 30 minutes from Kin fog Prussia and minutes to French Creek state park. With plenty of opportunities to hike, fish, boar and swim, Buckingham Preserve is a great place to call home.
For more information about Keystone Custom Homes' heating cost guarantee or new homes in Berks, PA, visit www.KeystoneCustomHome.com.