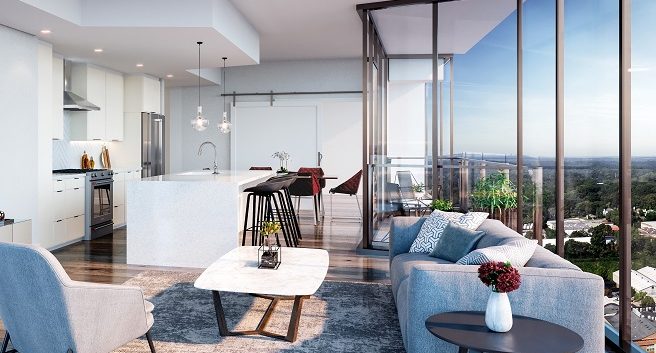 High-rise condo building includes green features and ability to live environmentally conscious lifestyle
Going green is no longer the newest trend in residential condominium construction – it is now the expectation. Today's condo buyers are searching for comfortable yet energy-efficient homes, luxurious yet environmentally conscious living spaces. This expectation is becoming reality at Seven88 West Midtown, Atlanta's first successful high-rise condo project out of the ground since the recession.
Seven88 West Midtown was designed with its future residents in mind. Features were included to ensure that every resident enjoys low monthly utility costs, improved indoor air and environmental quality, and fewer allergy problems, while also reducing the overall environmental impact of the building and each individual home. The building features LED lighting throughout, energy-efficient thermal exterior windows and doors, pressurized pre-conditioned air to corridors for indoor air quality control, dedicated outside air intake at each condo for indoor air quality control, and high-efficiency heat pumps that serve both the residences and the public spaces. During the design process, these features were intentionally chosen for their ability to retain the building's luxury while providing homeowners with low monthly utility costs, as well as a healthy and efficient living environment.
"We are proud to offer our future residents a home that allows them to live an environmentally-conscious lifestyle," said Michelle Graves, director of sales for Ansley Developer Services. "Residents will have an inherently green home, and they will also have the ability to make environmentally-friendly choices every day, such as choosing mass transit, rideshare options or walking versus driving a car."
The environmental-friendly features of Seven88 West Midtown extend far beyond the building's physical construction. Homeowners will have onsite, indoor bike storage available, encouraging non-traditional transportation options. Residents will be able to bike to the North Avenue or Bankhead MARTA stations, both less than 2 miles away, or bike or walk throughout a large area of town all interconnected by sidewalks and pathways. A Zipcar location is also just a mile away on the Georgia Tech campus.
Other options for being good stewards of the environment include buying locally sourced foods at the Bolton Road Farmers Market, eating at restaurants that offer sustainable, local cuisine like Cakes + Ale, or shopping at stores that offer environmentally-conscious goods, such as EcoHome Atlanta in Peachtree Battle or HollyBeth Organics on the BeltLine.
The West Midtown neighborhood will soon be home to Atlanta's largest park, the 280-acre Westside Park at Bellwood Quarry. The park will connect with the Atlanta BeltLine Westside Trail and the Quarry Yards mixed-use development, meaning Seven88 West Midtown will be less than 1 mile from the nearest BeltLine access point and the biggest green space within the city.
The green benefits of living at Seven88 West Midtown are twofold – they help to make housing expenses more affordable for homeowners by lowering the cost of monthly energy and water bills while also promoting smart environmental stewardship. With more than half of today's homebuyers caring about energy-efficient, green or sustainable features according to a National Association of Realtors report, Seven88 West Midtown is right on-trend.
For more information about Seven88 West Midtown, visit www.788WestMidtown.com.