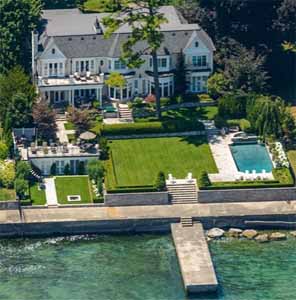 In many exclusive areas, sellers will not respond to inquiries directly from individual buyers about properties for sale. Oftentimes, these properties aren't even publicly advertised. After all, people who value their privacy and who want to maintain that exclusivity, don't want someone just walking in off the street. But, an experienced local luxury real estate agent is already known in the community, is already aware of likely sellers and often knows about properties for sale. Unlike an unknown individual buyer, they know who to call and their calls get returned.
Finding an Agent
If you already know a specific community or property that you are interested in looking at, you should contact local business groups or realtors' professional organizations to get a recommendation.
Once you've contacted a recommended agent, don't be shy about asking for their references. This is going to be a large transaction; shouldn't you work with someone you can trust?
Possible Problems with the Property
The uninformed or unprepared buyer can fall victim to a number of traps. Even a luxury home in an exclusive area can look beautiful upon first glance, but have serious problems inside. Plumbing trouble, a leaky roof, mold, insect or rodent infestations, driveways that need to be resurfaced, poor landscaping or a heating or air conditioning system that's on its last legs – all of these and more are possible; yes, even in a luxury home in an exclusive area.
These problems can be avoided or addressed if you have collected the proper information. An experienced local luxury real estate agent will already know something of the history of the property.
They will also know who to call for inspections because these are a regular part of the agent's business. After some reliable and trustworthy plumbers, roofers, landscapers and HVAC experts inspect the property, you'll know whether the seller's asking price is indeed a reasonable beginning to the negotiation process or whether you need to make a much lower offer.
Possible Problems with the Transaction
The seller might ask for unreasonable condition, or too high a price. Perhaps you or the seller wish to make unusual financial arrangements requiring expert assistance. There might be tax implications that you need to consider.
An experienced local agent will already have the knowledge and the numbers on their speed dial to solve these problems as well. They will know banking specialists who can advise on financial arrangements, attorneys for expert legal help and accountants for tax advice and to apply for a compliance certificate.
And, even more importantly, agents who know the area also know what the fair price ranges are.
The bottom line is, if you're shopping for real estate in an exclusive area, you need a luxury real estate agent!
The Goodale Miller Team is the no. 1 Century 21 team in Canada eight years running. They specialize in Oakville luxury real estate, including
Oakville luxury homes for sale, infill building lots, condominiums and more.
Written by Mike McEwen, luxury real estate blogger for The Goodale Miller Team