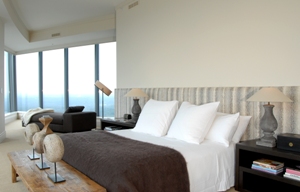 Atlanta's finest luxury high-rise condominium
Sovereign just premiered their newest model home designed by award winning designer Barbara Westbrook of
Westbrook interiors.
Finding inspiration in the designs of French Interior designer, Jean Michael Frank and Belgian collector and antiques dealer, Axel Vervoodt, Westbrook combined cleaned lined upholstery with casual antiques when designing the 4,000 square foot home. The space includes 12-foot ceilings, hardwood floors, custom cabinetry, natural stone countertops and floor to ceiling windows. Westbook took advantage of the amazing views and combined them with an extensive modern artwork collection to create various focal points throughout the space.
Located on the 43rd story of the building, the spacious home is fitted with 3 gracious bedrooms and 3 spa-style bathrooms in addition to the den and half bath. The home also features large living room, formal dining room and a European-style gourmet kitchen all which combine to create a dynamic yet personal feeling throughout the space.