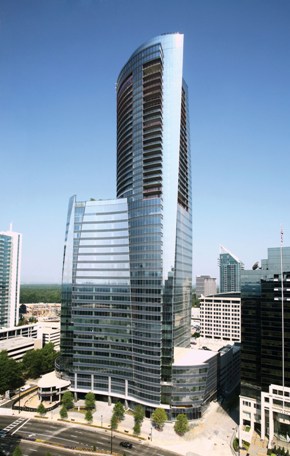 Congratulations
Sovereign, the winner of two Dream Home Awards! Sovereign was recently named a Gold Award Winner, in the "Best Condominium or Loft Home Over $500,000" category and a Silver Award Winner in the "Best Condominium or Loft of the Year" category. The luxury building located at 3344 Peachtree Road includes more than one-half million square feet of Class A office and retail space and is crowned by 82 luxurious residences.
The Dream Home Awards are presented annually to companies and individuals who assist in creating America's Dream Homes and set new standards of excellence in the Nation's Building Industry. Builders, developers, architects, interior designers and marketing professionals judge the competition, which is open to interior designers, architects, builders, remodelers, communities and trade contractors. Firms from all 50 states are invited to compete for awards in numerous categories including: custom home products, interior design, commercial and mixed-use projects as well as the prestigious Community of the Year, Home of the Year and Community Service of the Year. The Dream Home Awards also recognize individual trades for unique products and services assisting the building process.
These two Dream Home Awards are the most recent for Regent Partners, LLC who has won numerous awards including
Best of the Best Award in McGraw-Hill Construction's national competition, Development Firm of the Year by the Georgia Chapter of the National Association of Industrial and Office Properties and more. For more information on this award-winning luxury condominium building, call 404-266-3344 or visit
www.sovereignbuckhead.com.