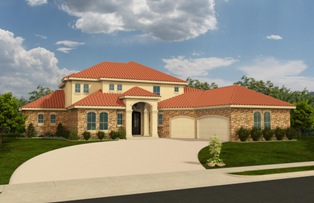 The current state of the economy has resulted in a decreased number of a lot of things, one of which being inventory homes. A contributing factor to the slump in the housing market was the incredible surplus of inventory homes available on the market, but the housing market has been heating up lately and this inventory has become absorbed more and more with every passing month. While this is good news for the economy, it puts home buyers at a disadvantage if they were looking for quick delivery. Especially in the custom home market, a spec home is almost like a mythical being.
Well,
Sterling Custom Homes is here to deliver positive news to anyone looking for a quick deliver custom home. They are building a spec home in the Austin golf course community, Flintrock Falls. Featuring the Platinum Plan 4222 (a favorite of the
Austin custom home builder), the home is actually situated on a golf-front lot in the community.
This exciting plan features:
Four Bedrooms
Study with Computer Alcove
Open Family Room
Spacious Master Suite with Two Large Closets
Gameroom
Media Room
Large, Covered Outdoor Living Area
Upper Terrace
This plan has been modified from one of Sterling Custom Homes' favorite custom plans. The layout really flows nicely to create the feel of a much larger home. One of the most popular design features in this home is the second bedroom, which is a guest bedroom on the main floor. It's like having a guest casita inside the home, giving home owners the flexibility to use the space for guests or as an additional bedroom for the family.
And, even better, the home is priced at an amazing value of only $929,780. If you are looking for a quick delivery custom home in Austin, look no further than
Flintrock Falls and Sterling Custom Homes. For more information, call 512-263-2214.