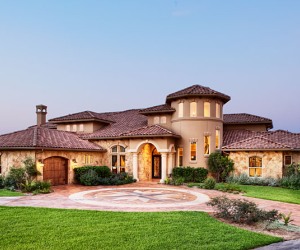 We've all heard it before: You only get one chance to make a first impression. So, make sure your home exterior delights and welcomes your guests, instead of scaring them away, with a custom driveway designed by
luxury home builder Sterling Custom Homes.
For more than 20 years, Sterling Custom Homes has been working with Austin clients to design and build custom homes that completely fit each individual's distinct lifestyle, even down to the driveway.
There are many key factors that influence the design elements of the driveway including preferences of the homebuyer, style of the home and community requirements; all of which are determined before beginning any project. That way, Sterling Custom Homes will be able to narrow down clients' choices, provide examples of options and offer suggestions that will help buyers decide which selections best suit their needs.
After narrowing down available options, the
Texas custom home builder can provide examples of a variety of driveway finishes. With selections such as simple brushed concrete, exposed aggregate, salt finished, stained concrete, stamped concrete, paver bands, and full pavers as well as a combination of styles and finishes, there is sure to be something for everyone.
For more information about the driveways designed by
Sterling Custom Homes, visit the website.