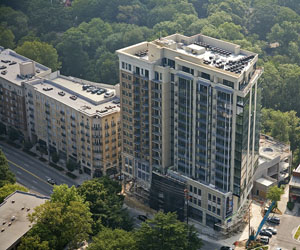 With the warm weather, isn't the idea of walking to dinner much more appealing than sitting in obnoxious Atlanta traffic? Ranked the 12th worst city with traffic, according to the Inrix 2010 Annual Report of Top Most Congested U.S. Metropolitans, living and working in Atlanta can be a challenge.
The Astoria's convenient location found at the intersection of Peachtree Battle and Peachtree Hills provides homeowners with a solution. Astoria residents not only have easy access to Buckhead and Midtown, it also offers residents with various dining, recreational and shopping opportunities within walking distance.
For dinner, The Astoria houses several restaurants within its building: Restaurant Eugene, Holeman & Finch Public House and Starfish. Residents craving something new can try nearby La Grotto Restorante, Houston's, Benihanna, Pasta Vino or The Georgia Grill.
Have guests coming in town? Impress the cultural connoisseurs by learning a thing or two at the nearby Atlanta History Center and The Woodruff Arts Center, or go see a play or concert at The Fox Theater, or simply enjoy the beautiful spring flowers at The Atlanta Botanical Garden and Piedmont Park. For the sports fanatics, don't worry – a minute's walk to the Buckhead MARTA station provides a quick ride to Phillips Arena and the Georgia Dome.
The Astoria also offers various amenities and services within its luxury highrise doors, including a large swimming pool, heated spa, sun deck with a grilling area, fully-equipped gym, media room, gourmet kitchen and a private mini-park.
This 16-floor residential highrise offers homebuyers with multiple custom options, so no two homes are alike, each envision the resident's own unique style and taste. And due to greatly reduced prices, owning one these luxury condos is now more possible than ever!
For more information on prices and other great local attractions near these luxurious condominiums at the
Astoria at the Aramore please visit their website.