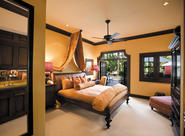 The Brazilian Court was named one of the top 10 Best Beach Hotels in America by Travel + Leisure Magazine. Recently renovated by
Leslie Schlesinger Interiors, the boutique hotel offers 80 stunning studios and one, two and three bedroom suites. Schlesinger designed each suite at The Brazilian Court with its own unique and irresistible charm, designed with luxurious fabrics, Provincial colorations, and mahogany millwork.
Leslie Schlesinger Interiors wanted guests at The Brazilian Court to enjoy modern amenities and accommodations surrounded by luxurious style and a wealth of comfort. Accommodations are completely renovated in a warm, inviting décor, retaining the original signature Mediterranean Revival and historic Spanish Colonial feeling of the Brazilian Court interior architecture. The firm's generous use of rich materials and hand-crafted cabinetry combine with luxury appointments, including jet baths and state of the art technology, creating an ambiance of relaxation and sophisticated style.
Located in the heart of "America's Riviera," The Brazilian Court dates back to 1926 and takes guests on an excursion back into a golden age of luxury and service, only updated to include all the essential modern travel amenities of the day. With thoughtful and thorough design, Leslie Schlesinger Interiors placed mahogany crown molding, Provence-style wood shutters, rich draperies and plush beds topped with opulent, 1,000 thread-count linens in all suites.
Guest suites range from 400 to 1,800 square feet with no detail overlooked from custom designed furniture and limestone flooring to flat-screen plasma TVs and Ultra Air jet bathtubs. Other room amenities include supplemental room lighting with his- and her reading lamps, lush towels and slippers, in-roof safes, well-stocked wet bars in suites and complimentary Wi-Fi Internet access throughout the hotel. The hotel offers dining at Café Boulud, the signature restaurant from award-winning Chef Daniel Boulud, with a menu that combines classic French dishes, international flavors, in-season dishes and the freshest ingredients. Frédéric Fekkai Salon and Spa offers a full range of luxury spa services to help guests feel relaxed and revitalized, from massages to facials to salon services. Brazilian Court guests can enjoy exclusive access to a private beach and Beach Club with beachside dining, fitness center and spa and more. And of course, The Brazilian Court is within walking distance to attractions, shopping, dining and entertainment and the world-famous Worth Avenue.
For more information about The Brazilian Court, visit
www.thebraziliancourt.com.