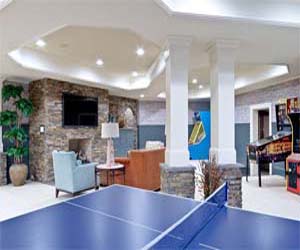 Houzz is a leading social media site for all home design enthusiasts. With relevant, engaging articles; product recommendations and helpful social tools, it is more than just high-quality, attractive photos. One of the site's latest
decorating guides covered 10 ways to make basement upgrades that are sure to "wow!"
Be bold. Paint your basement walls a dark, dramatic color to create a unique space.
Open shelving along your basement walls provides an option for organized storage. Mix it up by displaying some of your toys, games and household items as decor.
Create a sense of separation by installing counter-level bookcases with exposed shelves. Not only will you gain counter and storage space, you'll also easily divide up the room.
If you're a bookworm or just appreciate literature, dedicate part of your basement to a ceiling filled with floor-to-ceiling shelves.
Have a creative streak? Turn your basement into a personal art gallery.
Maximize your space by creating an office area under the stairs.
Make your basement a complete entertainment zone filled with a flat-screen TV, games, a bar and more.
Ready for a workout? Create a physical fitness area with adjacent play zone for the kids.
Enjoy a glass of fine wine whenever you want by setting up a cozy, cool wine cellar.
If you fancy a game of pool, layer the room with crown moldings, carpeting, wainscoting and your professional pool table.
Hopefully these design ideas give your luxury basement space a little pop of something special. For more Atlanta real estate design trends, visit Atlanta Real Estate Forum.