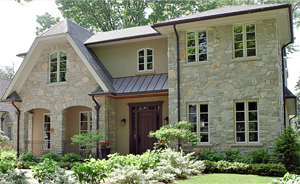 Half of all Canadian home owners want to build their own home, but most don't. Why? Because it's a lot of work. Trying to go green, hiring labor, understanding material costs, seeing the big picture and all of the paperwork that goes along with it means you're going to need some help. By working with an architect, you can build the luxury home of your dreams or just improve a piece of real estate that you've been wanting to finally use. You don't just need a builder, you need an architect!
They Know Labor and Costs: They'll be able to help you figure out how much labor you'll need to build, and help you to control costs through the process. Builders are notorious for taking as much as they can get from you, inventing costs and more, but with the right architect, you're going to get all the help you need to make sure that things don't get away from you.  Everything from the price of materials to how much each worker should be paid can be planned out by an architect. Every real estate project needs to be planned out to the letter before you begin.
Architects Help You See the Big Picture: From planning the build, calculating costs and even making sure the home is up to code, you'll need to make sure you work with a professional that has the experience you can count on.
Why Handle All That Paperwork On Your Own? Paperwork is never fun, and trying to make sure everything is up to code and that you have all the right permits can be a nightmare. Everything from a permit to build a foundation to making sure each and every room has the minimum amount of closets and exit points (doors and windows); you're going to have to make sure that you're doing what you have to do to build your home. Just about everyone can end up in a sticky situation, even if you're working with a reputable builder. Having blueprints and your permits ready before you start building or even thinking about building is a must. There's just no way about it – if you're not ready you're not going to be able to build your home.
Want to Go Green? You'll Need an Architect. If you want to create a green home, you're going to need a professional. Other than blue prints, you'll need an innovative thinker that can help you figure out how to make your home pop and be up to code. You don't want to end up with a house that you can't build, and when you work with someone that knows what they're doing, you'll actually get the job done.
While it's easy to think you can just make a blueprint with some software at home and hire a builder, if you want it done right, you need professional help. Research architects in your area, and always pick someone with an excellent engineering degree and reputation – don't let just anyone plan your next home.
The Goodale Miller Team is the no. 1 Century 21 team in Canada for Century eight years running with specialties in Oakville luxury real estate, including
Oakville luxury homes for sale, infill building lots, condominiums and more.