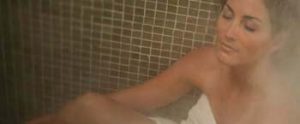 The finer things in life often take time to create and enjoy. Whether it's a meal at a five-star restaurant or a trip to an exotic destination, there's always a build-up before something can be fully enjoyed. However, with
steam showers from Mr. Steam, you'll be able to enjoy the luxury of steam at a moment's notice.
Thanks to the HomeWizard™ technology, you can control your residential steam generator from an existing home automation system. This means that you can preheat your steambath from a smart phone, computer, iPad or in-home control pad so it's ready whenever you are. Even the installation is convenient: have your installer plug the interface module cable into the steam generator and register the HomeWizard on the home automation programming console.
And if life suddenly interrupts your plans of steaming, the
HomeWizard will automatically shut off the steam generator if it isn't used within 10 minutes.
In addition to enhancing your pre-bath experience, Mr. Steam has several packages that can spice up your in-bath experience. Add lights, colors, sounds and scents to your personal home spa and enjoy the full luxury of steam.
For more information on how simple it is to add
Mr. Steam to your life, visit the website.