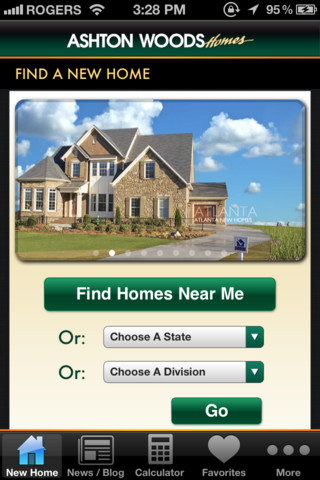 A new smartphone app from Ashton Woods Homes aims to help buyers look for Atlanta new homes.
The Ashton Woods Homes app includes several features that users will appreciate. You can browse any of the builder's communities directly from the app. View property listings, community information, local points of interest and more. This app also allows you to save your favorite listings and contact sales agents in seconds.
If you're not sure how to get to one of the communities or even where the closest one is located, the Ashton Woods Homes app uses GPS to create a geofence around neighborhood. Users can customize this virtual perimeter to alert them when they are within a certain distance of a community.
For calculations on-the-go, the app also has a built-in mortgage calculator. Homebuyers can enter information about monthly income and expenses; down payment; mortgage terms; and more. The app will give users an estimated monthly payment and will also calculate the affordable loan amount.
" The Ashton Woods Homes app presents a wonderful opportunity to put more knowledge in the hands of the consumer," Dwayne Hill said. "Homebuyers now have easier access to information about all of our communities. We believe having this information so readily accessible will encourage users to learn more about our homes when they're ready to begin the search for a new home."