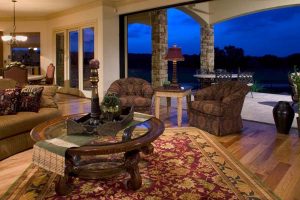 With the promise of spring and warmer weather just around the corner, many residents of
new homes in Austin will want to open up the windows, grill out and get outside for weekend gatherings with family and friends. Instead of just opening your windows and doors, wouldn't it be nice to have a design element that created a seamless flow from the inside to the outside of your home, where guests could mingle easily? You can create this seamless illusion with 20-foot disappearing glass wall installed by Sterling Custom Homes.
First introduced to the Austin area by Sterling Custom Homes in 2004, the homebuilder has installed more than 30 of these custom walls in new homes since that time.
The
Texas custom home builder uses the home's wall cavities to pocket the sliding glass doors, creating a unique flow. Typically, this type of door system flows into a large, covered outdoor living space. This allow residents to entertain with ease. The effect is even more breathtaking when the doors overlook a lake or Hill Country view.
Don't wait until spring has already arrived to incorporate this design element into the construction of your new home. Visit the
Sterling Custom Homes website today for more information.