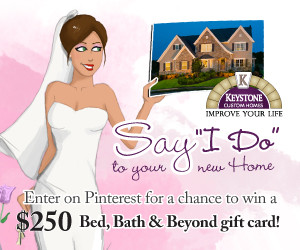 Keystone Custom Homes is ecstatic to announce its latest Pinterest contest, Say "I Do" to Your New Home. Anyone, regardless if there is a ring on your finger or not, is welcome to join. Now through November 14, 2014, participants can enter for a chance to win a $250 Bed, Bath & Beyond gift card.
The contest promoted Keystone's unique wedding program, which is a modern twist on the traditional wedding registry. Instead of finding items for a home you will need, Wells Fargo Bank gift registry allows your guests to enter money to put toward the down payment of your new home. Working just like any other checking/savings account, all the money belongs to the couple, and they are not obligated to purchase a new home from Keystone.
Participants can enter by following these easy steps:
1. Follow
Keystone Custom Homes on Pinterest.
2. Create a board named #SayIDoKCHContest
3. Re-pin images of items they would purchase for their new Keystone home. Images can range from paint colors to furniture to favorite floor plans. Be sure to check Keystone's wedding board.
4. Once a board is created with #SayIDoKCHContest, it will be entered for a chance to win.
Enter today, and say "I do" to Keystone's Pinterest contest! A winner will be announced on November 15, 2014.
For more information, please visit
www.keystonecustomhome.com.