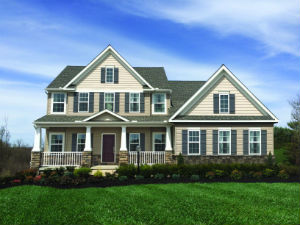 Keystone Custom Homes began construction for its newest community, Bishop Woods. The community offers single-family homes priced from the $300,000s. Homes in Bishop Woods are perfect for any new home buyer looking to live in a safe and close knit town that is perfect for raising a family.
The community is located in Elizabethtown, Pennsylvania which is just a short drive to Lancaster and Harrisburg. Elizabethtown is a city of only 11,545 residents and prides itself in supporting local businesses and education. Bishop Woods is located just minutes away from downtown Elizabethtown where fun activities happen every day. The town is known for its market street which features local stores, historic buildings and more.
Elizabethtown offers some of the best local schools where every student graduates ready to live, learn and thrive in a global community. Families can expect the best education from schools in Elizabethtown. Local elementary schools include Bainbridge Elementary School, East High Street Elementary School, Mill Road Elementary School and Rheems Elementary School. In addition to the elementary schools there is Bear Creek School, Elizabethtown Area Middle School and Elizabethtown Area High School.
Around 4,000 students are educated by 500 full time and part time staff throughout the Elizabethtown district. Elizabethtown is committed to using technology as a tool in classrooms to educate students on another level. Parents can rest assure they are sending their children to an award-winning public school system.
For more information on homes in the Bishop Woods community and Elizabethtown contact Barb DiBrito at 717-368-9831 or visit www.keystonecustomhome.com.