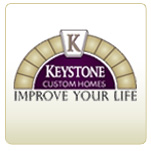 Every year, Keystone Custom Homes is proud to hand over the keys of new homes to first time home buyers. The Lancaster home builder knows that these are life-changing moments, and there is a great deal of energy, time and stress involved for those new buyers.
This month,
Keystone Custom Homes is hosting a free seminar to ease the process and answer the most common questions for families looking to buy their first new homes. As one of the top 100 home builders in the country, Keystone has the experience and the information to help first-time buyers learn the ins and outs of buying a new home.
The free seminar will be held on Saturday, March 29 from 10 a.m. to noon at the Heritage Hotel on Centerville Road in Lancaster. Attendees should come ready to learn because the home builder's
Attendees will learn how to save money and what they can do to improve their credit scores before applying for loans. Keystone's experienced staff has seen plenty of mistakes by first time buyers, and they will make sure those at the seminar won't follow down the same path. experts will be full of tips, tricks and information.
This seminar will fill up fast, and reservations are required. Call 717-464-9060 ext. 129 to reserve your spot. Attendees will not leave with just a head full of knowledge. Keystone Custom Homes will give everyone at the seminar a gas card for $50 and David Bach's book, Automatic Millionaire.
Learn more by visiting
http://www.keystonecustomehome.com.