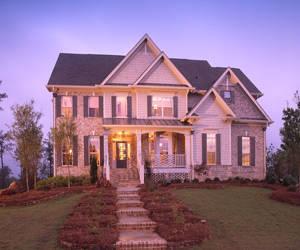 We've all been hearing about the expiration of the homebuyer tax credit for weeks now. It seems as though everywhere one turns there is a reference to the savings you could have received by purchasing a new home. But that time has come and gone, and we've now entered "life after the home buyer tax credit." This new world without tax credits and home buyer incentives feels very different and might leave you scratching your head, wondering now what?
Atlanta home prices are still low and now is the perfect time to build the home of your dreams. Have you always wanted his-and-her closets in the master? No problem. Interested in a master-on-the-main floorplan? All of these options and more are available in new home communities like Heron Bay. Located in Henry County, this master-planned community features a wide variety of prices, styles and builders, ensuring that you'll be able to build the custom home of your dreams no matter what your family's needs are.
Residents of this luxury Atlanta lake community also have the opportunity to enroll their children in school at Heron Bay Academy. The tuition-free charter school will open in the fall of 2011 initially serving 400 students grades K-6 in Henry and Spalding County in its first year, although plans to expand to K-8 are expected in the school's third year.
Unlike a traditional public school, the new charter school will allow for a more hands-on social studies program that includes literature, drama, art, music and technology studies. Foreign language studies will also be offered to kindergarten students, allowing them to get a jump start on foreign language education.
If you didn't take advantage, don't worry. It's not too late to get a great deal on a new home, customized to fit all of your needs. Stop by Heron Bay Golf and Country Club today. One of our staff members would be more than happy to answer any questions you might have.