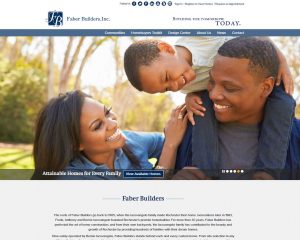 New, fresh and full of advanced features, Faber Builders' brand-new website is now up and running! The new website, www.FaberBuilders.com, provides a clear message of who the company is, what they build, and most of all, what they can offer to new home buyers in Rochester, N.Y. It showcases a simple, user-friendly design with a modern feel, and its responsive platform makes it mobile-, tablet- and computer-friendly! No matter what device you're using to browse, you'll have an easy time finding the useful information you need.
"We are excited to showcase our new website," said Bernie Iacovangelo, owner of Faber Builders. "This new site makes it easier for our potential buyers to find all of the information on our communities and homes, and they can easily contact us immediately via phone or email."
On the home page, visitors can effortlessly find access to Faber communities and move-in ready homes. A short introduction describes the company background and its approach to building, while a slideshow provides visual enjoyment for visitor's eyes. All from the main page, visitors can learn more about the building process, see featured homes and search for home plans that meet a buyer's specific criteria, whether it be number of bedrooms or price point. The new site also makes it easy to connect with Faber Builders on all of their social media channels including Facebook, Twitter and Pinterest.
The updated website also provides plenty of additional information for potential home buyers and Realtors, from frequently asked questions and warranty information to a news page with regularly updated information. The website also allows buyers to see a sneak peek into their new homebuilding team under "About Us" and "Meet the Team."
Finally, one of the more unique features found on this website is the ability to create your own account where you can save your favorite plans, communities and more! Then, when you come in to meet with a Faber Builders team member, they'll already know your preferred homes, which floor plans you like, and if you've had your eye on any inventory homes.
No matter where you look, this site is full of helpful, useful information designed to make the decision-making process of buying a new home easier than ever!
To experience the new website, designed by Builders Digital Experience, visit www.FaberBuilders.com.