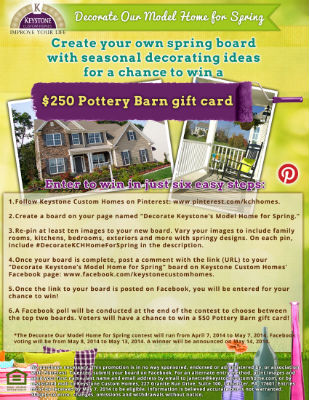 Spring is in the air, and so are social media campaigns! Lancaster, PA home builder, Keystone Custom Homes, has successfully completed their social media campaign of the season, "Decorate Keystone's Model Home for Spring." The campaign included a contest that measured participants' creativity and eye for design through both Pinterest and Facebook.
The home builder made a great move by combining the use of Pinterest with Facebook, for they were able to gain likes and followers across both platforms. The campaign produced 353 new Facebook likes, 22 Pinterest followers, 93 Pinterest likes and 278 likes on the contest's Pinterest board.
In the theme of spring, participants were asked to create Pinterest boards showcasing their favorite spring decorating ideas. In order to be considered to win the grand prize (a $250 Pottery Barn gift card), participants had to name their board "Decorate
Keystone's Model Home for Spring," pin at least 10 images and use the #DecorateKCHHomeForSpring hashtag on each pin.
After completing their boards, the participants were told to post a link to them on Keystone's Facebook page. From here, Keystone's followers were encouraged to vote for their favorite Pinterest board through their Facebook polling application. All who voted were entered into a drawing to win a $50 Pottery Barn gift card.
From gaining followers on social media to gaining insight on what their customers are looking for, Keystone's "Decorate Keystone's Model Home for Spring" social media campaign was a success! Stay tuned on Keystone's website for updates and news of more to come
www.keystonecustomhome.com.