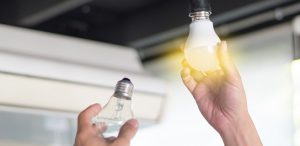 Light-Emitting Diode (LED) lighting technology has been rapidly evolving for several years. Not only are LED bulbs more energy-efficient and save homeowners money, but they also have a smaller impact on the environment than traditional mercury bulbs, according to the U.S. Department of Energy.
Simply installing LED lighting throughout your home can reduce your energy bill significantly. On average, LED bulbs use up to 75% less energy than other bulbs. Moreover, they last longer so that means not changing light bulbs as often.
Clearly, LED bulbs outshine compact fluorescent and incandescent light bulbs, but what makes the switch to LED lighting worthwhile? The No. 1 reason businesses and homeowners choose LED bulbs is due to their energy efficiency. Conventional light bulbs lose 80% of their energy as heat while LED bulbs lose 10 to 20% as heat, meaning that 80 to 90% of the electrical energy is being converted into light.
Another major benefit of LED lighting is that it directs light into a precise direction, reducing the need for diffusers and reflectors that can trap light. This ability adds to the efficiency of LED bulbs for many household uses including recessed downlights, under-cabinet lighting and task lighting. Other lighting types must be mirrored to the intended direction with more than half of the actual light never leaving the fixture.
Lighting your home with LED lighting means longer bulb lifespan, isolated light distribution, a smaller environmental impact and, of course, energy and money savings. Taking small steps toward energy-efficient living can add enormous value and comfort to your home.
But where should you begin? Start by switching household incandescent bulbs to LED bulbs and install outdoor solar lights. Typically, the average homeowner can save up to $300 a year by making the switch – check out the lighting calculator from Jackson EMC to estimate your potential savings.
Jackson EMC spokesperson Ty Pennington says "energy-efficient living means doing more while consuming less." Learn more from Ty Pennington through a series of Jackson EMC Ty Talks at  www.JacksonEMC.com/TyTalks or subscribe to the Jackson EMC YouTube channel.
Forever change the way you experience light – all while saving energy – by exploring the Jackson EMC Marketplace here.