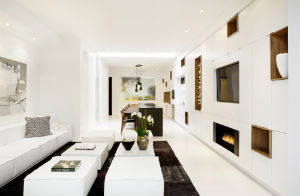 Modern luxury can be found at Ashton Woods Homes' newest community, Savoy at Town Brookhaven. This aesthetic comes from the architecture of the townhomes and the interior design of the model homes. Designed by internationally renowned Cecconi Simone Inc. of Toronto, these homes stand out.
This is exactly why Ashton Woods Homes partnered with Cecconi Simone Inc. Established in 1982, the full-service, interior design practice is privately owned and operated by Elaine Cecconi and Anna Simone. The firm has designed hotels, restaurants, multi-unit condominium communities, single-family homes and more.
Additionally, Cecconi Simone Inc. has been included in leading, international design publications, such as Frame Magazine, Luxury Home Quarterly and House & Home. The firm has received over 150 awards from around the globe, including honors from the Association of Retails Environments (USA), Building Industry & Land Development (Canada), A'Design (Italy) and International Property (UK).
For Savoy's model homes, Cecconi Simone Inc. worked closely with the builder and its architects. One model will have an eclectic feel while the other will have more of a traditional feel.
Priced from the $400,000s, Savoy at Town Brookhaven will open soon. For more information, call Tara Brown at 678-781-3170.