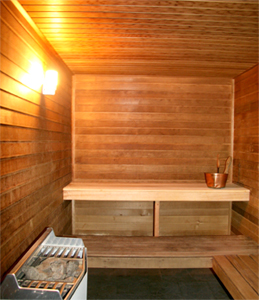 Imagine relaxing before or after your long day at work in your own in-home sauna. Most Americans never even consider adding a sauna into their
luxury home, but there are many benefits to including this relaxation space.
Luxury homes are the perfect setting for a sauna because they tend to be larger in size, which means they are better able to accommodate this oftentimes large space. When installing or including a sauna into your design plans, make sure you have enough space, that there is waterproof flooring underneath it and that you have access to the proper electrical hook up; you may also want to consider placing it near a shower for convenience. While a sauna may seem bulky at first, you'll soon love the value it adds to your home, its low maintenance upkeep and its many health benefits:
Reduce stress: Saunas cause your body to release endorphins, which increases your energy level and reduces stress.
Soothe sore muscles: Saunas are great for temporary relief to achy muscles and arthritic pain.
Maintain healthy skin: Saunas relax facial tension, promote cellular growth and open skin pores.
Increase metabolic rate: With regular use, you can burn hundreds of calories per session and increase your overall metabolic rate. However, this is not a diet supplement because you mostly are losing water weighty, which quickly comes back.
Improve circulation: The heat brings blood closer to the skin and increases blood flow to the body's extremities.
Rid the body of toxins: Saunas help your body to naturally expel impurities and harmful toxins.
Relieve sinus congestion: Have a slight cold or feeling under the weather? Enjoy a sauna for temporary relief to your symptoms.
With of all the benefits, both physical and financially, that a sauna provides, there's no reason that you shouldn't have one in your luxury home!