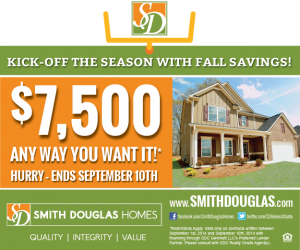 Smith Douglas Homes is excited to kick off the fall season with amazing home buyer and Realtor incentives at all of its metro Atlanta communities from Sept. 1 through Sept. 10, 2014!
During the September incentive, new home buyers will receive $7,500 to use toward design options and/or closing costs* and can choose from award-winning floor plans and in all 23 of Smith Douglas Homes' beautiful communities in Paulding, Cherokee, Gwinnett, Hall and Forsyth counties.
"With the housing market on the rise and interest rates still hovering near record lows, it's still a great time to buy a new home," said Beth Emshoff, Vice President of Sales at Smith Douglas Homes. "During this sales event, buyers will not only experience great savings, but they will also have the opportunity to purchase a beautiful home and move-in before the end of the year."
Metro Atlanta real estate agents are also invited to get in the game and will be eligible to receive a $2,000 broker bonus on all contracts written during this exciting promotion. *
To celebrate the start of fall, football season and the fantastic September savings, Smith Douglas Homes will be hosting a tailgate party at its Woodward Crossing community in Buford on Saturday, Sept. 6, 2014 from noon until 2 p.m. Guests of this can't-miss event can look forward to enjoying a delicious lunch catered by The Varsity, touring the stunning model home and taking part in traditional tailgating games such as corn hole, Kan Jam, the washers game and more!
Be ready to get in the game and save with great pricing and low rates from Smith Douglas Homes! For more information, contact us by filling out our
contact form or visit
www.SmithDouglas.com.
* Valid only on contracts written between September 1st, 2014 and September 10th, 2014 with financing through SDC Gwinnett LLC's Preferred Lender Partner. Please consult with SDC Realty Onsite Agent(s) on whom is SDC Gwinnett, LLC's Preferred Lender Partner. Subject to buyer credit approval. Not valid for previously written contracts. Valid only on full priced home(s). Buyer Incentive is only applicable to Design Options and/or Closing Costs. Buyer Incentive MUST be mentioned at time of initial written contract and all paperwork included with initial contract to be valid. Transaction must close on initial agreed upon closing date per the original written and signed contract paperwork. Paperwork with mentioned Buyer Incentive must be shown in FINAL contract to be valid. Buyer Incentive to be applied upon successful closing with SDC Gwinnett, LLC on original agreed upon closing date. Should any party require an extension or cause a delay from original closing date, with exception to any extensions filed by SDC Gwinnett, LLC, Buyer Incentive will be forfeited; no exceptions made. Cannot combine with any other promotion or offer. All information is believed to be accurate but is not guaranteed or warranted and subject to change without notice. Builder Represented by SDC Realty. See SDC Realty Onsite Agent(s) for Further Details.