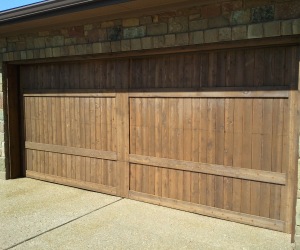 Sterling Custom Homes is pouring attention into the way it pours driveways in its
Austin luxury real estate. As a part of its commitment to continuously improve its home building process, the Austin home builder has come up with a new application for driveway construction that adds a nice finishing touch any buyer is sure to appreciate.
"So many times it doesn't cost any more to implement a change like the driveway/garage apron improvement," said Vick Pope, vice president of construction at Sterling Custom Homes. "It only requires the desire to constantly improve, and the mindset that never accepts things as the way they've always been done."
Traditional methods that other builders use involve pouring the driveway material up only to the exterior edge of the garage apron. This leaves an unsightly joint between the two, further highlighted by the differences in materials and finishes. This joint is even seen when the garage door is closed.
Austin home builder Sterling Custom Homes, however, has eliminated the problem with a little thought into how the driveway is put in place. Buyers can now have a driveway that appears to seamlessly flow into the garage. In the new process, the foundation is dropped at the garage apron to allow a finished layer of driveway material to end where the garage door meets the concrete. The seam cannot be seen from the exterior.
Sterling Custom Homes is known for demonstrating this kind of dedication to detail in their home building. For more information, visit the
Sterling Custom Homes website.