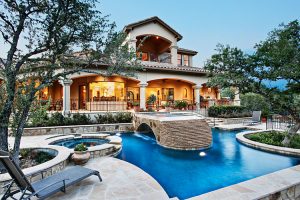 When you decide to embark upon the exciting
process of building a custom home, there are no doubt many, many questions circling in your head. Of course, the first question, and probably the most important question, is "How much will this cost?" You can call a myriad of custom builders and get an estimate, but the problem is that the original estimate can be drastically different than what you actually end up paying because the original estimate did not take into consideration to level of the homesite or include a pool or whatever. To avoid such a disheartening fiasco that will take away from the enjoyment of the experience, you need to make sure you go with a custom builder that takes everything into account when they give you an estimate – basically, you need a custom builder that offers unparalleled customer satisfaction, and for those looking to build in the Austin area, no builder can top Sterling Custom Homes.
When delivering an estimated price to the customer, Sterling Custom Homes has already worked extremely close with them, getting an exact idea of what they expect their
luxury Austin custom home to look like and include. Then, they work up an initial sketch, 1/4″ scale plans and specifications. By using such a thorough process, Sterling knows which materials are required to complete construction and the finishes that will included. Then, they take this information and put it into their Sterling Pricing Module, which was developed in 2007.
The tool will give an accuarte price of a home within a matter of hours, not days or weeks like many competitors. And, the Sterling Pricing Module allows them to front-load most of the material and labor costs, alleviating the need to send the plans out to trade partners and wait for their response.
And to answer the question "What is included in the Quoted Price of a Custom Home," while I can't answer for all custom home builders, I can say with certainty that Sterling Custom Homes includeds everything from the driveway to landscaping to irrigation in their price. So be sure to make Sterling Custom Homes your first choice when it comes to building a custom home in Austin.
To stay up to date with the home builder and get great advice/insights into the custom home building process, be sure to visit their blog at
www.sterlingcustomhomesblog.com