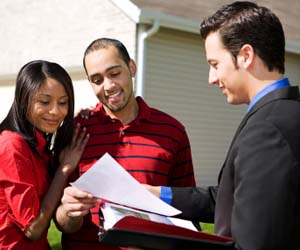 Insurance agents are famous for smiling down at potential clients from billboards all over town. But insurance expert and
Equifax Personal Finance Blog contributor Linda Rey wouldn't consider the number of billboard sightings you encounter as a good way to choose the agent to write your homeowners insurance policy. She says you need to search for good service as diligently as you looked for the right location when you chose your new  home.
As a first step in finding insurance for your home, you may want to ask your friends and coworkers who they use and what their experiences are. Then you may want to think about the type of insurance agent you want – one you can reach only online or by phone or one you can meet in person. Either way you go, you'll want assurance they can be there for you if disaster strikes, helping you through the claims process.
You may also want to look for an agent who carries many types of insurance so you can bundle your auto, home, life and/or other policies and receive discounts. Rey says an important part of an agent's role is to review your policies with you regularly to ensure that you are adequately insured, at the right price, even as your needs change.
Once you've identified several potential agents, go back to Rey's Equifax article, "
How to Choose the Best Insurance Agent."  She gives links to several websites that will help you narrow down your choice based on their credentials, licensing and service records. For example, she says you can check for complaints on insurance agents or carriers at your state insurance department. You can look for customer service rankings at J.D. Power.
These links and more are posted on the
Equifax Personal Finance Blog, along with Rey's other expert advice on choosing your agent and managing your overall insurance needs. It's worth taking a few moments to check out before you just go with the "easiest" insurance option. What's easy now may prove to be more difficult and more expensive in the end.