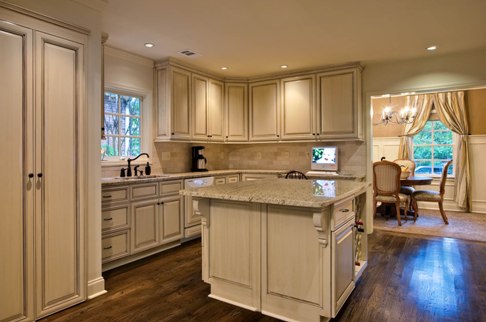 If you have ever undertaken a tremendous remodeling project for your house, you know that it can be a very stressful situation. Plus, it's so hard to find a remodeler that you trust explicitly to complete the project to your expectations, keep you updated with the status and finish in a timely manner. Especially in today's market when many companies take your money, begin a project then file bankruptcy and you are stuck without your home renovations and without the money you saved to complete it. So, we feel it's our responsibility to help promote exceptional remodeling companies when we stumble upon them.
Recently, we heard that customers of
Blake Shaw Homes, an Atlanta remodeling company, were extremely pleased with the professionalism and quality of work they received from Blake Shaw. In fact this is a direct quote from Kristan Moore: "We did a major renovation, but Shaw made the entire process as easy as possible. As an interior designer and landscape architect, I have never had good luck with contractors, but Shaw was the complete opposite. He was very patient, never got frustrated with us and he showed up on time, which made this the most flawless process I have ever been through."
Kristan and her husband Patrick loved their cottage home in Buckhead, GA. However, once their son was born, it became apparent that they needed a home with a little more space. Since they loved their current home, they didn't want to move. Instead, they had added a major addition to their house to increase space. The addition added approximately 600 square feet of living space to their three bedroom/two bathroom home and increased the size of their son's bedroom, dining room and kitchen. A brand new family room was created, additional windows were installed and modifications were made to interior walls to improve the flow of the home. In addition to the extra space, the Moores made several upgrades to their home's features including new cabinets and countertops in the kitchen, a stacked stone fireplace and bookshelves in the formal study, new hardwoods, new shutters, a new archway over the front door and much more. The entire process was completed in four months: started in June 2008 and was complete in September 2008.
Great job Blake Shaw – way to impress your customers!