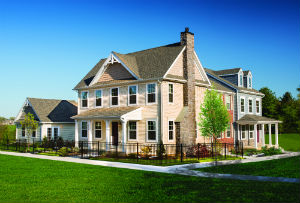 Devon Creek, one of Keystone Custom Homes' Energy/Plus communities, offers proximity to all the history and tradition that nearby Lancaster has to offer.
Beyond elegant homes and a carefully designed traditional neighborhood community with a park, playground/tot lot, pavilion, picnic area, open fields and retail shops, the homes in Devon Creek are built with a commitment to environmental responsibility.
Keystone's Energy/Plus house design incorporates energy saving technologies and construction techniques to lower energy costs for the homeowner and reduce the environmental impact of the house long term. Low-E windows and insulated exterior doors keep air from coming in during cold winter months and hold air conditioning inside during the warm summer months.
Keystone believes so strongly that their Energy/Plus houses are good for homeowners and the environment that they offer a heating guarantee to Energy/Plus communities. If a buyer's annual heating costs in a natural gas, Energy/Plus home exceed $490, Keystone will pay the difference.*
Devon Creek is also conveniently located near major roadways and a wide array of historic and modern entertainment options including the Strasburg Railroad, Sight and Sound Theatre, Fulton Opera House, Penn Cinema and the Conestoga Valley Community Center. Children in Devon Creek will attend schools within the Conestoga Valley School District.
To learn more about Devon Creek and other Energy/Plus communities, visit
www.keystonecustomhomes.com.
*Only available on homes serviced by natural gas. Not available on homes which use a heating source other than natural gas (electric heat pump, propane, etc.). The guarantee is based on the actual costs to heat the home and so the average non-heating costs per month will be eliminated from the total costs per year to determine the actual costs to heat. Homeowners must collect 12 months of gas bills and determine the average cost per month for their gas bills between May and September. This monthly average cost will be used to determine non-heating costs (i.e. cooking, water heater, etc.) and will be deducted from the total for the 12 months of expenses. Should the homeowner's annual heating bill exceed $490 for a single family home and $290 for a townhome, they are to submit their calculations and copies of their bills to: heatingguarantee@keystonecustomehomes.com for review. If the costs exceed the guarantee, Keystone will send a check to the homeowner for the amount exceeded the guaranteed amount. Some restrictions apply. See New Home Advisor for complete details.