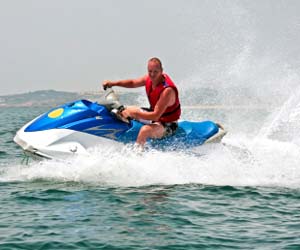 You've just bought a new (or maybe new-to-you) home, and you're extra excited because it's on the lake. When it comes time to shop for your homeowner's insurance, don't forget to mention the jet ski and boat. They may require special coverage. According to insurance expert Linda Rey, a regular contributor to the
Equifax Personal Finance Blog,  a second look at your policy could make a big difference in case of accidents involving any of your outdoor toys.
That means if you move to a community where people scoot around in golf carts, if you now have a backyard pool, if your kids are making tracks with an all-terrain vehicle (ATV) or even if you have a new swing set, you may want to make a call to your agent to make sure you're fully covered.
According to Rey's article, "
Summer Toys: Insuring Your Pool, Trampoline, or Boat," full coverage for these types of items extends well beyond coverage for property damage. You'll want liability insurance to make sure medical bills and even legal bills are covered in case someone is injured on your property.
Your homeowner's policy will usually provide some coverage, but extra liability coverage may be a good idea. You may obtain it either through extended coverage under your homeowner's policy or under an umbrella liability policy.
Some carriers simply consider certain items too big of a risk to  cover. Rey says some insurers may not cover personal watercraft (jet skis or wave runners). Trampolines also cause great concern among insurance carriers. In some cases, if a carrier finds out you have a trampoline, they will not renew or may even cancel your policy.
Perhaps the best advice is to have an honest conversation with your insurance agent before you buy your outdoor toys. When you consider your purchase, calculate not just the initial expense, but also the ongoing cost of insurance. You can start by reading Rey's full discussion of the topic on the