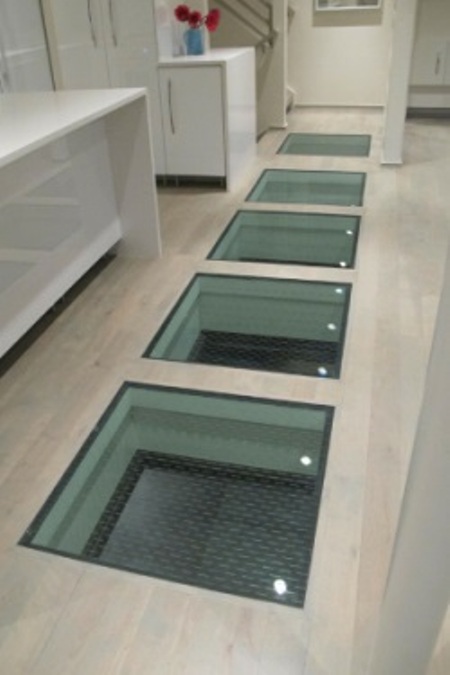 When Kansas City homebuilder Jane Kietzman and her husband, architect Randy Kietzman, started building a 20-home urban-renewal project in Kansas City, Missouri, they sought a way to connect the outdoors with the indoors. Innovate Building Solutions' glass floor product provided the perfect climate-controlled solution. Using glass floor panels from Innovate Building Solutions, the Kietzmans created an elegant and unique visual connection between the inside and the outside of the homes in this urban renewal project.
Mike Foti, President of lnnovate Building Solutions says, "Our glass flooring products are very versatile and have been featured in multiple home building projects. Innovate was delighted to participate in this project. Glass flooring and stairs have become very popular in both commercial and residential applications. Not only can they be used to connect the indoors and the outdoors, but they give a room the sense of being larger, providing more light from one floor to another and creating a view."
The homes feature a row of five clear glass floor panels in the kitchen and living area; these panels connect the indoor living space with the outdoor relaxing patio area below. The one-inch-thick, laminated, structural clear glass floor panels are set into an anodized aluminum frame in the floor of the home. Each glass floor panel features a half inch top layer tempered glass with an interlayer and an anti-skid ceramic frit at the top; the bottom layer is heat treated glass.
In this project, the glass floor panels inside the home were separated by 14 inches of space to ensure that the glass stays comfortable to walk on during all seasons. Kietzman also built small tubes and a filter into the walls of the floor space between the glass panels to deter condensation from forming inside. In doing so, Kietzman allowed the glass floor panels to retain both aesthetic and practical value.
Kietzman's urban renewal project, located in the core of Kansas City, Missouri, boasts distinctive looking interiors while embracing the character of the exterior. Due to limited space, Kietzman used strategic planning and stunning design elements to achieve his vision. The surrounding area boasts a spectacular view of the city and a newly developed 45' green space.
For more information about structural glass floors, glass stairs or glass bridges, call 877-668-5888 or visit www.InnovateBuildingSolutions.com. For more information on this distinctive urban renewal home, visit www.RJKietzmanArchitect.com