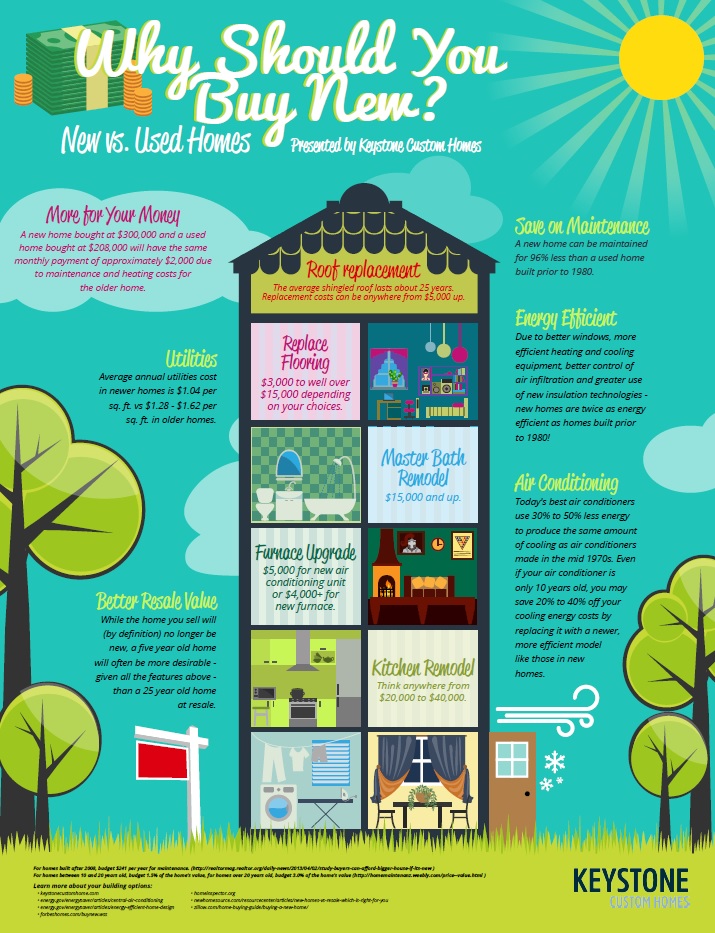 Keystone Custom Homes wants everyone to know that buying a new home can be more beneficial than buying a used home. Why's that? Well, buying new can save you time, money and increase your overall investment.
Here are some facts about New vs. Used homes:
• A new home can be maintained for 96 percent less than a used home built prior to 1980.
• Average annual utilities cost in newer homes is $1.04 per square foot vs. $1.28 to $1.62 per square foot in older homes.
• Remodeling a kitchen in a used home can cost anywhere from $20,000 to $40,000.
• The average shingled roof lasts about 25 years. Replacement costs can be anywhere from $5,000 and up.
• A new home bought at $300,000 and a used home bought at $208,000 will have the same monthly payments of approximately $2,000 due to maintenance and heating costs for older homes.
• A five-year-old home will be more desirable than a 25-year-old home at resale.
• Remodeling a master bath can cost $15,000 and up.
• Newer homes are twice as energy efficient because they provide a better control of air infiltration and a greater use of new insulation technologies compared to homes built prior to 1980.
More information can be found on New vs. Used homes by viewing Keystone Custom Homes' "New vs. Used Homes" infographic here. Keystone has plenty of new homes to choose form to make it easier for buyers to save time and money. For more information about these homes, visit www.keystonecustomhome.com.