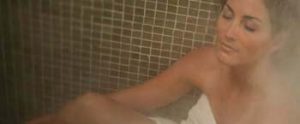 We all have different ideas of luxury. For some, the word evokes images of fine cuisine and sparkling wine. For others, it involves exotic destinations and plush hotels. For many of us, however, the word "luxury" simply means having what you never thought you could. If you never imagined owning a personal
steam room and receiving the
benefits of steam therapy at home, check out the products from Mr. Steam.
Mr. Steam can provide you with a personal steam generator and all of the amenities you need to set up your own private spa. And once you're all set up, you can start enjoying all the benefits that steam has to offer:
Better skin: Through the power of steam therapy, your skin may look and feel revitalized. Steam can help flush out toxins in your body through perspiration, making it useful for treating acne and other skin conditions.
Better body: Steam therapy can help reduce lactic acid build-up and increase blood flow in muscles which means you will be less sore after workouts.
Better sleep: This one is simple. No one ever goes into a spa and leaves more stressed than before. Reducing stress and feeling the warmth of steam therapy leads to a more relaxed night for your mind and body.
Better breathing: Using a steam shower helps to sooth breathing passages and clear allergens from your airways.
Mr. Steam is helping many homeowners realize their dreams of luxury by providing steam room benefits at nominal costs. If you're already planning a bathroom remodel, look into the various steam and spa packages available for your home. The cost may surprise you.
For more information on having a
luxury steam shower, visit the Mr. Steam website.