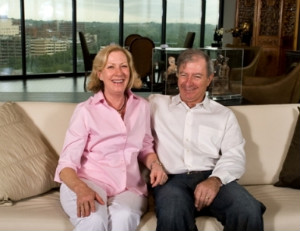 Recently a trend toward multiple generations living within the same home has been sweeping towns across America. Now we are seeing a similar trend at the upscale
Atlanta luxury condos, The Astoria at The Aramore. With recent price reductions this fabulous building has seen many new residents walk through its doors, including multiple generations of the same family!
Now there are three generations of the Driscoll family living at The Astoria. Original residents, Bob and Lee Driscoll have recently been joined by their son, Matt, and Lee's mother, Isobel Cooper.
Found at the intersection of Peachtree Battle and Peachtree Hills, Bob and Lee Driscoll first moved into The Astoria in 2009 after deciding to downgrade from their large Buckhead home located near Chastain Park. With The Astoria's customizable features and multiple floorplans, Bob and Lee found exactly what they were looking for in a new, less maintenance home.
"We love the quality of the construction and the finishes and the fact that it's a small building, with just 70 units. We know almost all the neighbors," said Bob Driscoll.
Although after Mrs. Cooper's husband passed away she was still capable of living alone, her inability to drive became a concern. To eliminate driving back and forth for errands and to have her closer in case something were to happen, Bob and Lee decided the best decision would be to move her to The Astoria. Today Mrs. Cooper is living in her own unit but is just a short elevator ride away. Bob and Lee are close enough if anything is needed while still allowing everyone to have their own privacy.
"It's a great situation, we each have our own space and our separate lives but we are close enough to rely on each other when need it," says Matt Driscoll.
After looking at several different condominiums in the area, Matt agreed with his parents that The Astoria had all he was looking for in a new home. With 24-hour security and concierge services, convenient location and great amenties, including a private swimming pool, sun deck and gym, it's no surprise The Astoria beat the competition. Matt is now able to be close to his family, while also run his online bookstore with ease.
For price information and to learn more about The Astoria, please visit
www.theastoriacondos.com or call 404-355-6999.