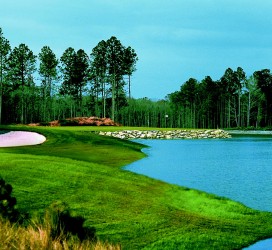 Everyone has heard that now is the best time to buy a home. Federal incentive programs, attractive interest rates and the wide variety of homes on the market, make this the ideal time to make an offer on a new home. But what you may not know is that for or similar reasons, now is also the best time to purchase a residential lot and begin construction on anew home.
Lot pricing is very competitive and we're now seeing some of the best rates in decades. Most importantly, pricing for new home construction is almost at an all time low. Building materials and components as well as trade labor is available at a discount. In addition, builders and contractors are willing to negotiate and are extremely eager to work.
If you're looking to buy Northeast Florida real estate, you should consider King and Bear at World Golf Village. The King and Bear community is home to the beautiful and challenging collaborative golf course designed by Arnold Palmer and Jack Nicklaus. The gated neighborhood will have 968 residential homes upon completion, but only 129 of the single family lots will overlook the prestigious course. As of November 18, there are only 23 of these remarkable lots still available.
In addition to competitive rates and low prices, the King and Bear does not place start-time limits on home construction, which means you'll be able to take your time designing your home and selecting the builder who best suits your needs.
The team at The Davidson Companies is able to to assist with your lot purchase. From the lot selection process to how to best place your preferred home on a lot to ensure beauty and value over time, the Davidson team will be with you every step of the way. Market conditions are improving and changing weekly and the window of opportunity is limited, so make sure you contact Davidson Companies to get the best deal on your new lot today!
Thanks to Rick Pariani for providing information for this blog post.